Printers and copiers regulate and handle one of the chief cardinal assets of any business— Documents. The decision between buying or leasing them for your organization can set the tone for success or failure in your business' day-to-day operations. Of course, there are benefits to either buying or leasing printers and copiers, and which you choose should depend on the needs of your business.
Office Printer & Copier Lease: Why You Should Seriously Consider Leasing
Leasing printers or copiers has many advantages, the biggest being that you don't need to have initial capital reserved to fund your purchase. A top performing office copier can be expensive and easily cost you a few thousand dollars. This amount increases significantly if your office needs several printers and copiers. On top of that, you have to fund other costs associated with running the equipment, like maintenance and frequently buying toner cartridges. All of this can significantly escalate the price of equipment ownership, which can be a pain when these funds could easily be re-allocated to fuel other more important parts of your business. Printers under a Managed Print Services contract can ease the burden of printing in the office.
5 Benefits of Leasing vs. Buying Office Copiers and Office Printers
1. Significantly low upfront costs- Startups, small and mid-size businesses often don't have the necessary funds on hand to cover the cost of purchasing business equipment. Business owners also prefer using credits to fund other aspects of growing their organization, like marketing campaigns or expanding inventory. The ability to lease printers and copiers gives them immediate and affordable access to essential business equipment without breaking their wallet.
2. Boost business productivity with an MFP- MFP stands for multifunctional printer, and they are amazing. They make document management efficient and streamlined. From scanning and making copies, to sending and receiving faxes, an MFP is designed to perform all of these tasks and sometimes more. Modern MFP's are also integrated with smart features that, for example, automatically digitized the paper documents and deliver them over the enterprise network. But this equipment can be expensive to purchase. Leasing an MFP is a great alternative, plus any related software can be added into the lease rather than having to be purchased separately.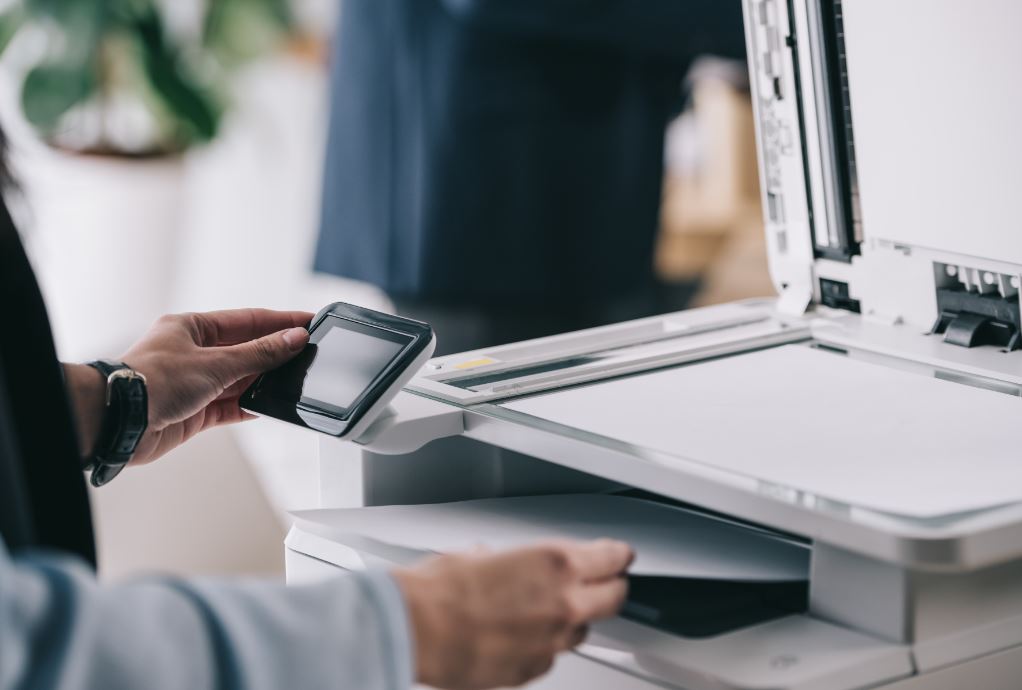 3. Obsolescence isn't a concern- Part of keeping a business thriving is its speed and agility when it comes to embracing tech advancements. But tech is an ever-evolving organism and keeping up with it can be an expensive endeavor. Purchasing a copier and printer might be a great one-time investment, but it also means that you are committed to it for years to come. There are many office printer and copier lease contracts that enable you to upgrade equipment at little to no additional cost. This means you will always be able to upgrade your office technology and maintain a modern office.
4. Hassle-free equipment maintenance- Most copier and printer lease plans come with a Maintenance Agreement that covers service, parts, labor, and supplies. This is fantastic for businesses who have only a limited (or no) IT department. Since maintenance is often included in the agreement, companies that lease their equipment don't have to worry about downtime from a damaged printer and they can provide the same standard for quality to all their employees across different branches.
5. 100% financing plus supply coverage- Many lease plans allow you to add supplies like ink and toner cartridges for a specific number of printouts into the contract. Any additional supplies for printouts beyond the agreed terms can be bought as needed. If you are a small business with low printing needs, this means you won't have to pay extra for printing supplies because your supplies and equipment will be bundled into one lease payment.


Stay ahead of the curve with A&A Office Systems
A&A Office Systems supplies businesses with cutting-edge business solutions in the realm of printers, scanners, and copiers. Our catalog carries highly vetted equipment from the best of the best office equipment manufacturers like Ricoh, Savin and Konica Minolta. If you are looking to lease copiers or printers, A&A might have the right solution to power-boost your business' document management needs.