Print Technology
Believe it or not, your office copier can be the backbone of your workplace... but only if you tap into its true potential. A&A Office Systems offers not only cutting edge print technology from leading manufacturers Ricoh, Savin, and Konica Minolta, but also a catalog of award-winning solutions that ensure you get the most from your equipment.
Hundreds of organizations across Connecticut have turned to us with their needs and trusted us to implement that best fit to improve their office. We're proud of the results. We want you to be absolutely comfortable with our technology, and the first step in finding the best fit for you is understanding how the available options can help you overcome your challenges.
Contents
III. Production printers
IV. Solutions
Small desktop printers are a mainstay, even within larger firms. Their low upfront cost and overall convenience make them a good fit for small businesses with a handful of people that generate a few hundred pages a month. No-frills commercial desktop printers are not known for their efficiency, running the range from 3 pages per minute to 20, depending on the model and the print method. Inkjet printers usually have a PPM rate of 3 to 13 PPM, while laserjet printers tend to run faster with rates between 12 and 20 PPM. It's worth keeping in mind that PPM is generally benchmarked with black and white text, so color images will print at a slower rate.
The speed of a typical desktop printer will suffice for the occasional email, report, term paper, or recipe (or executive that insists on having a private print device in their office), but will inevitably fall short under even moderate prolonged use. The cost of supplies and wear on the machine will eclipse the benefits of its low upfront cost.
Some higher end modern desktop printers are also equipped with modest flatbed scanning and network features to further stretch their functionality. For the very small business or home office making every dollar count, the extended utility of these features bring tremendous value in a small package. For an enterprise of even 10 employees, it can become a frustrating bottleneck in workflow.

Multifunction printers or all-in-one printers are more commonly called copiers ostensibly because one of their primary functions to photocopy (the world may never know for sure). For organizations that print into the thousands of pages a month, especially those with more than 5-10 employees, an all-in-one copier is the best value. The initial investment is more significant than a desktop printer but pays off in the long term. Copiers are better equipped to handle high volume wear and toner usage over the life of the machine.
Copiers are often rated with different PPM ranges, with faster and more efficient models rising in cost. It may be tempting to buy a slower machine that doesn't actually meet your print volumes to save on the initial investment, but those savings will evaporate over time with the cost of parts, service and upkeep as you push a copier beyond its design. It probably goes without saying, but purchasing a copier rated for speeds higher than your needs is just as costly.
Copiers can also carry functions that most desktop printers don't, including photocopying, scanning and faxing. Invaluably, this makes a copier not just on output device, but also an input device. As information management becomes increasingly important, a copier becomes a powerful conduit for information traveling into and out of your business systems.

When print jobs require high volumes at high speed with crisp clarity and color, production print machines are the way to go. Production printers are a major investment, full stop. But production printers will help you handle printed marketing material in-house, delivering consistent quality with quick turn around.
Many organizations, particularly small businesses, may find that outsourcing their marketing print materials to be a better overall value, but a production printer is also a good fit for any organization that creates very high volumes of standardized print, such as forms or printed memos. Production print machines can handle volumes and speeds that leave even the best copiers in the dust, and a controller will make automation and minute changes a breeze.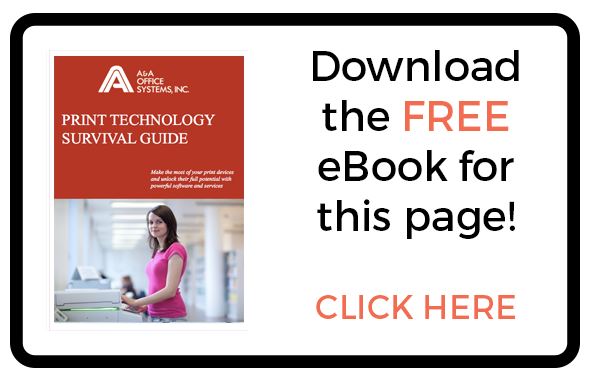 The world of "solutions" is vast and deep, and aren't exclusive to copiers. At the most basic, a solution is an implementation, maybe a piece of software or just a new process, that resolves a challenge or obstruction to your process. Or maybe it makes a perfectly fine process even better! Solutions expand your ability to integrate your copier with your workflow and further increase security and compliance.
Imagine this scenario: A superior requests edits to a printed document. You scan your employee badge at the copier to identify yourself and scan the documents in. The copier converts the printed documents to digital editable Word or PDF, removes any speckles, and, because you've already identified yourself, routes the files to your personal network share at the touch of a button. You make the edits at your PC and then send them to the copier for printing. You again use your badge to release the print at a different copier, one closer to your desk, and the copier prints your edited documents affixed with a watermark you've selected to identify the draft.
While it's possible to edit your superior's printed document through more traditional, time consuming means, this entire scenario is made easier and faster by series of hardware, software and process solutions designed to make your work day a snap.

It's easy to lose complete track of your organization's print usage. Managed print service, or MPS, is a program built for this very hurdle! MPS begin with A&A installing software on your organization's network that securely and discreetly monitors print usage. After a period of time, a detailed report will give you a picture of what's actually going on.
Once you and A&A have assessed your print, a plan will be made to reel in costs and other burdens, which may include consolidating machines, updating your fleet or implementing rules based printing. Rules based printing uses software to govern when, how and where members of your organization can print. By enforcing rules such as forcing documents to be black and white or duplex, or directing jobs to an efficient copier rather than a desktop printer, your overall print costs will be reduced.
As part of the package, MPS programs generally include supplies (most usually toner) and service in the price of the program. In total, an MPS program from a good provider, brings analytics, consultation, cost savings and total support, all for one price. Speaking of price, MPS can be billed one of two ways: cost-per-page (CPP), sometimes called cost-per-click (CPC) or seat based billing (SBB). CPP invoices based on how many prints you make in a given period, and so can fluctuate from invoice to invoice. Seat based billing, on the other hand, invoices a flat fee based on your organization's head count.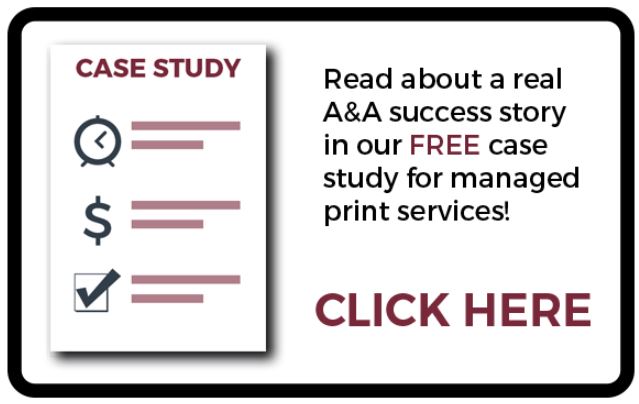 The service you recieve on your printer isn't, in and of itself, a print technology product. But, anyone can sell you a copier. Anyone can tell you how great the technology is. What will help you truly make use of your investment, and what sets copier dealers apart, is the support you receive after that sale. At A&A Office Systems, we pride ourselves on not just our award-winning solutions, but also our award-winning support after the sale.
We're commited to ensuring you know how to best operate your new device, and our technicians are trained by the manufacturer to truly understand the machine inside and out. Our warehouse and dispatch center is located centrally in Middletown, CT, so you'll never be waiting long. We won't leave you high and dry!
And, after every service call, we offer a feedback survey so you can let us know exactly how you feel --and we take the responses very seriously. The survey responses are collected and aggregated by a third party, CEO Juice, and the resulting measure of customer satisfaction and loyalty is called the Net Promoter Score. NPS is a scale of -100 to +100, with 0 being neutral feelings about a company and a positive number representing how positive customers feel about a company.A&A's average NPS for 2017 was +92, an outstanding number on the Net Promoter Score scale.
In the event that a customer is dissatisfied, we have an internal process to disseminate negative feedback to the appropriate departments within A&A and mechanisms to correct the issue so it doesn't crop up again.
---
Did You Know?
Managing your printers and supplies can reduce your overall printing costs up to 20% to 30%.
Source: IDC
The ratio of employees to printers is an average office is 4:1, but the optimal ratio is 10:1.
Source: Gartner
40% of IT help desk calls are printer related.
Source: Gartner
90% of companies don't know how much they spend on print
Source: Gartner
Managed print services can save businesses 30% on print-related expenses
Source: IDC
---
Related to: Copier Solutions, Print Technology, Copy Machine, Office Copy Machines, Business Class Printers, Office Printer, Laser Printer.
Go back
We're thrilled to share what folks have to say about A&A.
"Terrific to work with"
Non-profit
"Beyond ordinary!"
Town employee
"Saving money"
Auto parts dealer, Middletown, CT
"Smooth & Quick Transition"
Oil and Natural Gas, North Haven, CT
"Highly knowledgeable and patient"
Group Home, Hamden, CT
"A&A define Customer Service"
Brokerage and Property Management Firm, Hartford, CT
"Your response is second to none"
Trustee, Church, Woodbridge, CT
"Saved me time, which saved me money!"
printsmart customer, Hartford, CT
"Timely and Friendly Support"
IT Manager, Hartford, CT
"My Highest Reccomendation"
Information Technology, Hartford, CT
"Courteous, helpful, and fair!"
Executive Assistant, Manchester, CT
"Professional & Prompt Customer Service"
Branch Manager, Financial Services, Southport, CT
"Top Notch Professionals"
Administrative Assistant, Suffield, CT
"Highly Satisfied Customer"
Director, Easton, CT
"Polite & Courteous Staff"
Executive Assistant, Hartford, CT
"Pleasant to Work With"
Executive Assistant, Manchester, CT
"Exceeds Expectations"
Legal Assistant, Law Firm, Branford, CT
"Thank you for the outstanding service"
Chamber of Commerce, South Windsor, CT
"They Go Above & Beyond"
Reverend, Church, Niantic, CT
"Great office equipment vendor!"
Ted Hsu
"The people who answer the calls are always very pleasant and helpful."
Gaylord Specialty Healthcare
"He ordered immediately and came back in a very short time."
CT Government
"Well mannered, thorough explanations."
CCSU
"Very impressive and appreciated."
Atlantic Community Bankers Bank
"Great! Very informative and quick to get everything handled in a timely manner."
Pro Health MD
"Fast response times"
Associated Contruction Co.
"Always easy working with A&A"
Bradley Home
"As always a job well done!"
CCSU Student Activity
"Always friendly and helpful"
Cheshire High School
"Everything was outstanding"
George A. Law, Attorney at Law
"Great customer service"
Hartford Public Works
"We know it will be fixed when A&A comes"
Middletown Facility Department
"Quick turnaround time on orders"
New Britain Finance Department
"Always helpful and friendly and informed."
New London Public Utility
"Thanks again!"
Prohealth Physicians
"A&A's office people are wonderful!"
Regional School District #14
"Great customer service"
Revenue Services
"Friendly, fast service"
Riverview Hospital
"We receive constant steady and professional service"
Signature Construction Group of CT
"As always great customer care"
Southwestern CT Mental Healt
"We cannot say enough about the high-quality customer service of the A&A Office Systems Team!"
Hartz Media & Marketing
"If you're looking to do business with them, I highly recommend!"
Nick G.