Handle Your Digital Documents With Ease
Document scanning opens up ways to share information and collaborate throughout your office.
With modern document scanners from A&A Office Systems, scanning hundreds of pages is quick and effortless. From there, you can store your digital documents on your network, share them with colleagues, and access or distribute them on the internet.
Scan hundreds of pages in minutes in both color and black and white
Duplex scan both sides of a page simultaneously for even greater efficiency
Avoid scanning errors with auto de-skew and auto size detection features
Create files in PDF, JPEG, TIFF and other standard formats
Quickly route your documents to locations on your network
Retain crucial data from your paper files
Reduce your power usage and costs thanks to energy-efficient designs
A&A's scansmart imaging team can even help with your backfile conversion, whether you have just a few boxes or a whole room of filing cabinets.
fi-7800/fi-7900
The best in class solution for your high volume scanning needs
The new Fujitsu fi-7800 and fi-7900 production scanners are designed to maximize productivity for high-volume scanning. With its new and improved paper feed technology, you can finish scanning jobs faster and eliminate the need to make rescans.
With scanning speeds of up to 140 ppm, and a daily duty cycle of up to 120,000 pages a day, Fujitsu's newest production scanners make the document imaging process fast, reliable, and intuitive.
Key Features:
Automatic separation control ensures that pages go in one at a time
Skew reducer feature keeps skewed pages from affecting the sheets that follow
Stacking control deposits scanned batches into tidy stacks, ready for archiving
Cleaning mode allows for easy maintenance of the scanner
PaperStream IP and PaperStream Capture software provides advanced image cleanup
ScanSnap iX1500

Scan. Save. Shred
Managing your paperwork can be easy. With the Fujitsu ScanSnap iX1500, you can scan all of your receipts, invoices, and other documents right from your desk.
Its best-in-class OCR capabilities allow you to find and sort your files by searching for relevant keywords. Store these files directly to your cloud drive so you can access and share them anywhere.
Highlights
Large, easy-to-use touch screen allows you to easily scan to your preferred destination, including Dropbox, Google Drive, and your desktop folder
Double-sided scanning with advanced paper feeding system to help avoid jams
Connects via Wi-Fi or USB cable
Built-in software organizes and cleans up your documents by automatically rotating upside down documents, deleting blank pages, and cropping images to the correct size
Fi-7160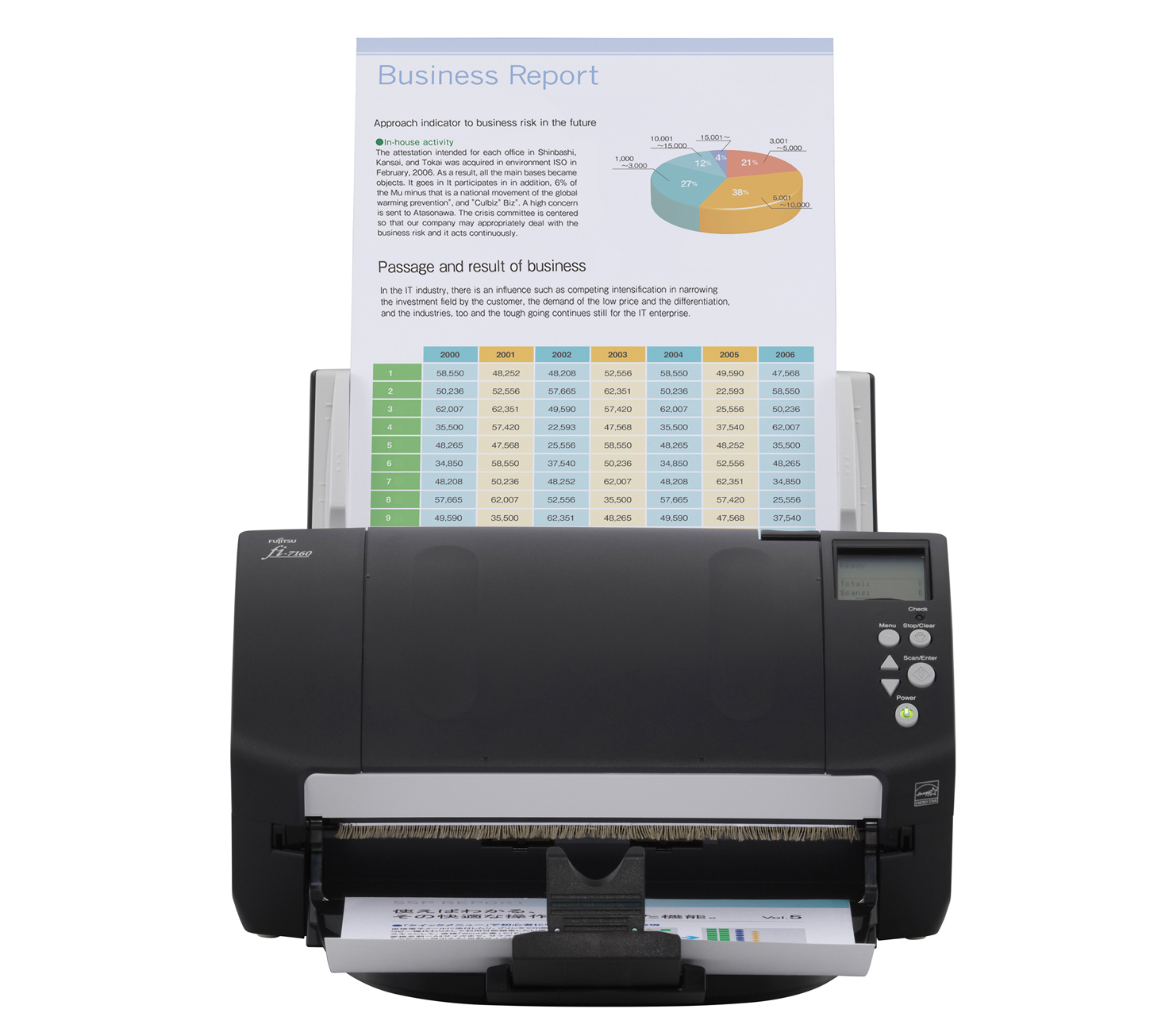 Streamline your digital transformation
The Fujitsu fi-7160 document scanner is designed to make scanning faster and more reliable for your workgroup. Zip through hundreds of pages of documents in a matter of minutes and eliminate the need to make rescans.
The fi-7160 offers:
Advanced paper handling technology minimizes paper jams
Intelligent software removes blank pages, rotates upside down documents, and auto-crops your scanned files to the correct size
Included TWAIN driver allows the scanner to be compatible with most document management software
Compact size allows the scanner to be placed on any office desk
fi-7300NX

Improve your document management workflow with Fujitsu
The Fujitsu fi-7300NX offers a leap forward in document scanning, allowing organizations to significantly improve work efficiencies, recognize cost savings, and optimize office space. This scanner builds on top of the fi-7160 scanning platform and adds a large, easy-to-use touchscreen, and flexible connectivity via Wi-Fi, Ethernet, and USB. Just drop your documents on the feeding tray, press the job button, and scan to your pre-configured destination.
Scan directly to email, Sharepoint Online, folders, and more over your Wi-Fi, Ethernet, or USB connection
Large touchscreen and easily customizable job buttons allow users to scan to pre-designated folders
TWAIN and ISIS drivers allow universal compatibility with popular document management systems
PaperStream IP offers powerful image cleanup tools to make sure all of your scans look perfect
---
Did You Know?
It costs $25,000 to fill a four-drawer file cabinet, and it costs $2,160 to maintain that file cabinet.
Source: no source
The average office worker spends 400 hours per year searching for lost documents.
Source: no source
It costs the average company $20 in labor to file a document; $120 to find a misfiled document; and $220 to replace a lost document.
Source: no source
---
Related to: Document Scanning Solutions, Scanning Services.
Go back
We're thrilled to share what folks have to say about A&A.
"Terrific to work with"
Non-profit
"Beyond ordinary!"
Town employee
"Saving money"
Auto parts dealer, Middletown, CT
"Smooth & Quick Transition"
Oil and Natural Gas, North Haven, CT
"Highly knowledgeable and patient"
Group Home, Hamden, CT
"A&A define Customer Service"
Brokerage and Property Management Firm, Hartford, CT
"Your response is second to none"
Trustee, Church, Woodbridge, CT
"Saved me time, which saved me money!"
printsmart customer, Hartford, CT
"Timely and Friendly Support"
IT Manager, Hartford, CT
"My Highest Reccomendation"
Information Technology, Hartford, CT
"Courteous, helpful, and fair!"
Executive Assistant, Manchester, CT
"Professional & Prompt Customer Service"
Branch Manager, Financial Services, Southport, CT
"Top Notch Professionals"
Administrative Assistant, Suffield, CT
"Highly Satisfied Customer"
Director, Easton, CT
"Polite & Courteous Staff"
Executive Assistant, Hartford, CT
"Pleasant to Work With"
Executive Assistant, Manchester, CT
"Exceeds Expectations"
Legal Assistant, Law Firm, Branford, CT
"Thank you for the outstanding service"
Chamber of Commerce, South Windsor, CT
"They Go Above & Beyond"
Reverend, Church, Niantic, CT
"Great office equipment vendor!"
Ted Hsu
"The people who answer the calls are always very pleasant and helpful."
Gaylord Specialty Healthcare
"He ordered immediately and came back in a very short time."
CT Government
"Well mannered, thorough explanations."
CCSU
"Very impressive and appreciated."
Atlantic Community Bankers Bank
"Great! Very informative and quick to get everything handled in a timely manner."
Pro Health MD
"Fast response times"
Associated Contruction Co.
"Always easy working with A&A"
Bradley Home
"As always a job well done!"
CCSU Student Activity
"Always friendly and helpful"
Cheshire High School
"Everything was outstanding"
George A. Law, Attorney at Law
"Great customer service"
Hartford Public Works
"We know it will be fixed when A&A comes"
Middletown Facility Department
"Quick turnaround time on orders"
New Britain Finance Department
"Always helpful and friendly and informed."
New London Public Utility
"Thanks again!"
Prohealth Physicians
"A&A's office people are wonderful!"
Regional School District #14
"Great customer service"
Revenue Services
"Friendly, fast service"
Riverview Hospital
"We receive constant steady and professional service"
Signature Construction Group of CT
"As always great customer care"
Southwestern CT Mental Healt
"We cannot say enough about the high-quality customer service of the A&A Office Systems Team!"
Hartz Media & Marketing
"If you're looking to do business with them, I highly recommend!"
Nick G.