Taking on a document scanning project is no small feat. Despite the challenge, the effort will undoubtedly pay off. Once your paper files are scanned into a digital format, you're on your way to cutting costs, increasing productivity and peace of mind. (No really!)
But how do you get started with document scanning? Maybe your state has a new law requiring digital preservation, or your corporate headquarters has handed down new guidelines. Heck, you may just be swamped with paper files and you're desperate to get them out of your hair. Either way, you may feel a little overwhelmed. In an effort to get started right away, you might be tempted to just throw piles of paper through a scanner and be done with it.
Not so fast! Even just a little planning goes a long way. These tips can save you BIG headaches down the road.
Determine What You Want or Need From a Document Scanning Project
This might go without saying, but it's easy to get swept up in the promise of the "paperless office" and lose sight of your goals. Are your digital documents purely for archival purposes, or will they need to be accessed on a regular basis? Are you looking to incorporate an automated workflow? At this step, also be sure to consult any applicable state laws or corporate guidelines to ensure your project is compliant.
Assess Your Paper
Take stock of your paper files. Chances are, most pages are standard 8.5 x 11" letter paper, but there might some irregularities in there that might jam up a scanner or slow down the process. These things include: small pieces of paper like receipts, onionskin paper, photographs and oversized documents such as maps and blueprints. It is highly recommended organize your documents in such a way that cuts down on interruptions or issues with scanning.
Make a Post-Scanning Plan For Your Documents
When you're done scanning you may want or be legally required to preserve the original paper documents. If you plan to keep them in their original state, it's a good idea to determine this ahead of scanning so that the order or folder structures can be preserved. You may also want to store the files in boxes onsite or with a storage company. Document destruction is another option if you want to recover floor space and reduce storage costs, but remember, there is no coming back from destroying an original document!
Plot Out Your Indexing
Indexing is how your documents will be organized electronically. This includes things like file names, file types, how many pages belong to a document, folder structure, etc. For familiarity, you may want a folder structure that looks like your physical filing cabinets. Or maybe you plan to lean heavily on electronic search functions so the folder structure isn't as important. It's best to figure these things out BEFORE you scan to cut back on the hours involved in revisiting every document.
Read More: What is Document Indexing?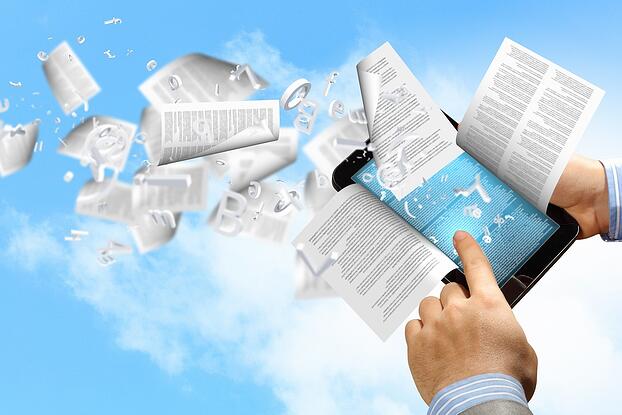 Consider Your Electronic Document Management System (EDMS) Options
While it's possible to store your digitized documents in the folders on a PC or server, it's best practice to use an application specifically designed to organize your documents. An EDMS makes indexing, searching, sharing and archiving your documents much easier. By magnitudes. Some EDMS software stores documents in the cloud and others are installed and maintained on premise at your location. Maybe you want to access your documents on a mobile device! You should weigh your options against features, cost and regulatory obligations. An experienced document management consultant may be able to help you make sense of what is available to you. Popular EDMS applications include products from Laserfiche and Digitech Systems.
Read More: What is Electronic Document Management?
Will You Scan In-House or Outsource?
Now that you're very nearly ready to scan, one of the final steps is determining if you will scan in-house with your own staff or outsource with a document partner. Scanning in-house is often much more cost effective, and leaves control of your documents firmly in your grasp, however a document management partner often has access to experience, knowledge and technologies that will make the project run more quickly and smoothly. Outsourcing does often require a monetary investment.
Proper planning for a document scanning project will save you time, money and headaches down the road. We have witnessed our fair share of projects that go sideways due to poor planning. We strongly recommend you fill in every detail you can before you even begin.
Document scanning and electronic document management can be daunting! We hope this blog helped, but if you'd like to learn more, please contact A&A for more tips, definitions and information about document management!