What if I told you that you that your copier could be a secure customizable, educational, collaborative powerhouse? You might think I'm nuts. You might think you don't need any of that stuff, just the copies, please and thank you.
Well, the jury's still out on the nuts thing but when it comes to making your copier a powerhouse, Ricoh's Smart Operation Panel is the small wonder you should absolutely be making use of.
What is the Ricoh Smart Operation Panel?
Introduced in 2013, the Smart Operation Panel is an interactive, Android powered touch screen affixed to many of Ricoh's latest copiers. With preloaded features and access to a secure Application Site for even more applications, it easily transforms your copier into a hub of productivity.
"It's the MFP of the future and it's only going to advance from here," Bob Meraviglia, Executive Digital Solutions Specialist at Ricoh, told A&A Office Systems. "It's a conclusive way to do business."
The SOP operates with the same kind of taps and swipes modern mobile phones and tablets do, making it immediately intuitive and easy to get started.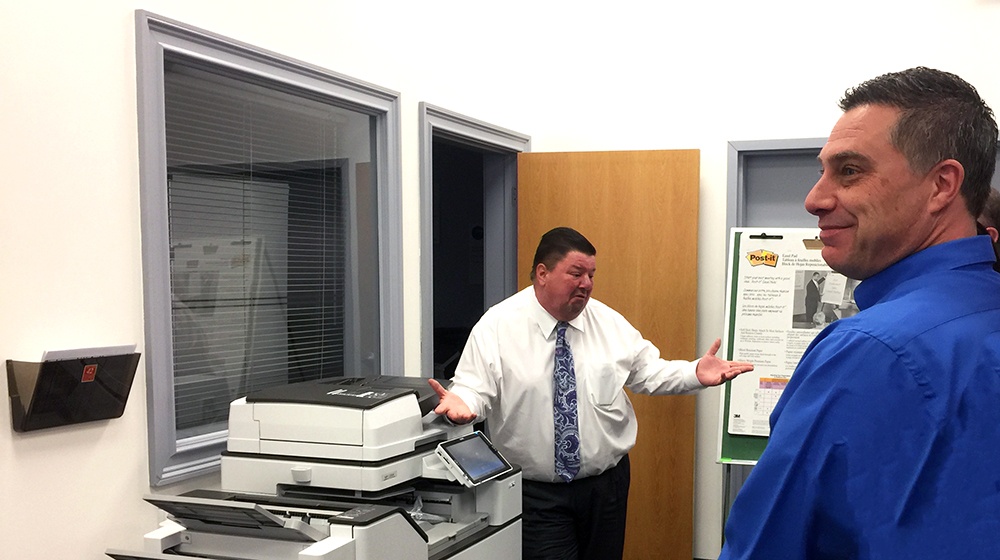 Ricoh's Bob Meraviglia (sporting a fantastic tie) showcases the Smart Operation Panel.
What Can I Do With the Ricoh Smart Operation Panel?
The SOP is built with customization, security and flexibility in mind.
Customization
One of the best features of the SOP is the ability to customize the icons and functionality, right down to a user a level. Once a user identifies themselves, whether by network password or card authentication or some other means, their custom screen populates on the SOP. This puts the functions the user uses on a regular basis in familiar locations.
The SOP also supports custom folders and custom background images, such as a corporate logo.
From an administrative perspective, device administrators can grant or restrict privileges on a per user basis. This includes things like adding, deleting or moving icons on the home screens, downloading new applications from the Ricoh Application Site or accessing functions as it pertains to their role.
Read More: 7 Ways Ricoh GlobalScan NX Streamlines Your Documents
Security
Security is at the heart of everything Ricoh does (and everything A&A Office Systems offers!). Print devices from Ricoh are, of course, equipped with secure Linux based operating systems, and Ricoh has developed the Android based SOP with the same concerns in mind.
Communication traffic between the main print unit and the Smart Operation Panel is managed to prevent data leakage. For instance, data is never forwarded from the main print unit to the SOP and the SOP never communicates information outward over wifi.
Login authentication information is collected by the SOP and then forwarded to the main unit for processing. Alternatively, Quick Card Authentication login information can be stored to an address book in the SOP's persistent memory by an administrator and this information is AES256 bit encrypted.
Information security is of the utmost importance today.
Although the SOP is Android based, the SOP cannot install applications that are not signed by Ricoh. Applications, including malware, directed to be installed through the web browser or SD card or any other means will be ignored.
Ricoh has developed the SOP with far more security features than what we have space to discuss here, but hopefully you get the idea. Protecting your sensitive data and your network at large is always a top priority. Of course, as always, nothing is more important than your organization's own policies and network administration. Be sure to stay proactive!
Read More: How to Have the Best Copier Security
Flexibility
Like the SOP's customization features, its flexibility is also a fantastic asset that allows you to define the best ways to do business.
Preinstalled is a series of "Quick" function applications that launch no frills versions of common tasks. Quick Copy, for instance, opens a simple, bold interface with clear options for quantity and paper tray. Quick Scanner offers a similar, crystal clear interface to specify destination, DPI and a few other common variables and that's all. More robust versions of these functions can be found on the SOP too, of course, but the Quick versions cut down on sifting through confusing clutter and unnecessary options --perfect for efficiency (not to mention the less technologically savvy of us!).
Quick Copy makes copying documents a breeze.
Mobile connectivity is supported by the Ricoh Smart Operation Panel in a BIG way. Using the Ricoh Smart Device Connector mobile app (available on your mobile platform's marketplace), you can print documents or scan to a network or cloud destination or even use your mobile device to authenticate your login credentials! And speaking of the cloud, the SOP interfaces beautifully not just to your own network, but to a variety of popular cloud destinations such as Dropbox and Google Drive.
With the SOP, you can even print files directly from a flash drive or SD card!
If all that isn't enough, Ricoh's Application Site has a number of great applications to really bring your copier to life. One of our favorites here at A&A is Conference Concierge, which helps you to build presentation booklets right on the SOP!
No matter how you look at it, the SOP is built to help you do business with speed and ease.
Read More: 3 Features of Ricoh ICE That Will Breathe New Life Into Your Documents
Learning
Taking the time to learn new software can be a huge roadblock for organizations. Even though Ricoh has taken extra care to ensure that the Smart Operation Panel is as easy to use as possible, is likely that some folks might still be a little perplexed. That's ok! Ricoh has anticipated this and included tutorial videos available to watch right on the SOP screen. These step by step videos take the mystery out of new technology.
Learn how to print from your mobile device with Ricoh's tutorials.
Bob Meraviglia told A&A, "We are enabling our customers to change their copier to a conduit of collaboration and work style productivity via the cloud." He wanted to be sure we quoted him on that, and no problem! Because he's right. Between the Ricoh Smart Operation Panel and the cloud, your Ricoh copier can become the cornerstone of your office productivity.