It's easy to think production print is the realm of marketers, graphic artists and designers alone, but it's not just branding that demands a powerful production machine. Any organization consistently utilizing any kind of standard forms, printed memos or notices has a need for production print.
Outsourcing to a trusted partner is an economical and prudent option, particularly for smaller organizations. However, purchasing or leasing a production print machine and printing in-house carries a number of benefits.
Cost Awareness
Depending on the frequency and volume at which you print, retaining print in-house can save you from markups and hidden fees, and perhaps save you money in the long run. But it's not just savings that's important here, it's the transparency. Without the obfuscation of a third party invoice, it's much more apparent where your print expenses are going when you purchase or lease a machine yourself.
Expediency and Waste Management
According to industry analyst InfoTrends, production print is increasingly in smaller batches but with a much tighter turn around time; sometimes as little as 48 hours. This effectively cuts back on unused product and reduces waste, but the demand for such quick projects can be a challenge for print shops. By bringing your print in-house, the only schedule that matters is your own.
Control
If part of your production print plan includes branding, control is paramount. Your brand is your indentity. Logos, colors, resolutions, designs. These things communicate who you are, both to your colleagues and the rest of the world. Bringing your print in-house lowers the barrier between you and your final product. Your messaging stays on brand, exactly as intended.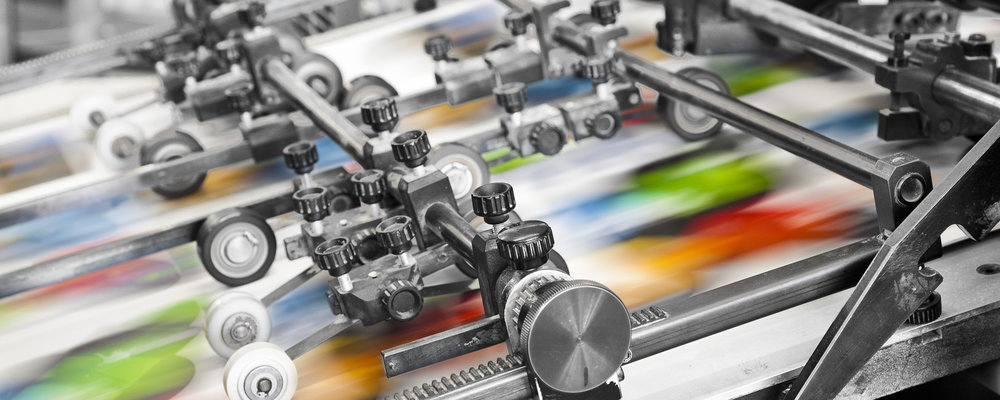 Security
Whether it's the handling of digital files with your print vendor, or your project itself is of a sensitive nature, working with outside source means that there are additional points of failure in keeping your data or proprietary information secure. Working with your own teams, your own machines and your own network reduces security risks.
The Right Tool
When you use a machine specially designed for high volumes, long run times and exact color matches, you are using the right tool for the right job. Without a production machine on premise, your colleagues may use the office copier to run large batches of forms or high quality color projects. A copier is, generally, not a machine tuned for this sort of use and it may wear it down much faster, costing you money and time in the long run.
Production print is just one way print technology can revolutionize your office! Download our free eBook to learn more about some of the other ways print can improve how you work!