It's often difficult to gauge not just customer satisfaction, but customer loyalty. Here at A&A Office Systems, we wanted to make this typically opaque process more transparent for both our own edification as well as to the benefit of our customers. In 2014, we implemented the Net Promoter Score system to better understand how we could respond to feedback and grow from what we learned.
What is Net Promoter Score?
Net Promoter Score measures feedback based on post-service customer surveys. Each survey question offers the customer an opportunity to respond with a number between 1 and 10, with 10 being the best or most agreeable response. With the NPS system, answers 9-10 are considered to be highly valued, while 7-8 are considered passive; responses that may appreciate your service, but are not likely to promote it. Anything below 7 is considered to be a detraction.
Customer responses are then aggregated to produce a number on a scale from -100 to +100 --essentially a scale with 200 points on it. This is the Net Promoter Score. Zero is considered neutral, and any positive number is considered a positive response, scaling up to +100 for the best possible response. Any negative number works similarly: An overall negative response, worsening as the score reaches -100.
The average North American company has an NPS of +10, which doesn't sound like much, but it's still a positive score. Apple, a company much loved by its ardent fanbase, has an NPS of +70.
A&A's NPS for year ending 2017, independently collected and verified by third party CEO Juice, was +92.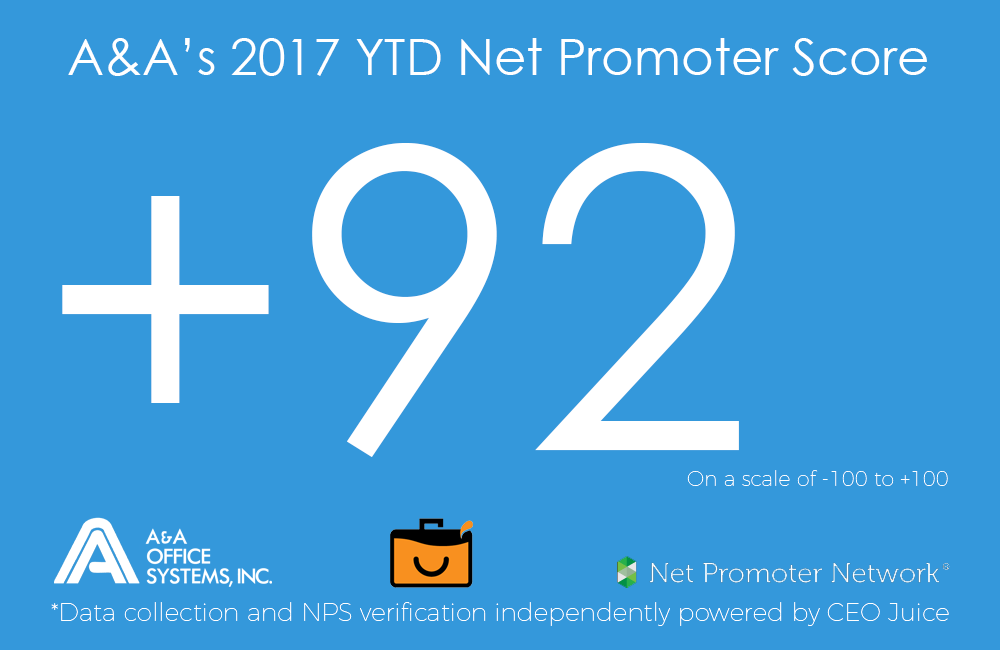 How Does A&A Use This Information?
There's no doubt that +92 is a great score that the entire team here at A&A is proud of, but it's not a perfect score. Which is to say, in all honesty and fairness, that we occasionally receive feedback that, despite our best efforts, our service was not satisfactory. Critical feedback triggers a series of internal actions engineered to correct the problem and to ensure it does not happen again. We "close the loop," as they say in Net Promoter Score parlance.
Read More: How Building the Best Copier Service Department Strengthens Relationships
The feedback goes right to the top, landing on the desk of John Sullivan, our President and CEO. Next, our service manager, Scott Richards, personally reaches out to the customer to allow them to expand on their concerns and to address corrective actions.
After the customer is satisfied, the appropriate department is notified of the critical feedback and steps are taken to prevent the issue from cropping up again, whether that means additional training or adjustment to workflows and processes.
We look at critical feedback to be an opportunity for growth, and to turn a complaint into a compliment. Our internal procedures turn what may be a weak link into a self-improving process. This is why we put a lot of stock into the NPS system and take pride in our monthly score.
Where Can I Find A&A's Current NPS?
In the interest of transparency, we share our previous month's score every month on our social media channels.